Today, we have an extra special installment of "Fan Art Fridays" for your viewing pleasure! I recently commissioned a piece of artwork from illustrator Chris Faccone featuring my 2 favorite MOTU characters- Trap Jaw & Man-E-Faces! The art arrived a couple of weeks back, but Chris asked if it might be possible for us to do an "opening" video of us getting the art. Since Blaze and I are always happy to mug for the camera, I agreed immediately... but since Power-Con kept us super busy for awhile, the opening had to wait until we got back. We finally got a chance to open it up last week, but I wanted to save the video for today so that we could post it and the finalized art all at the same time. So, without further ado, here's the video of it's arrival and opening...
...and here's a shot of the GLORIOUS final art!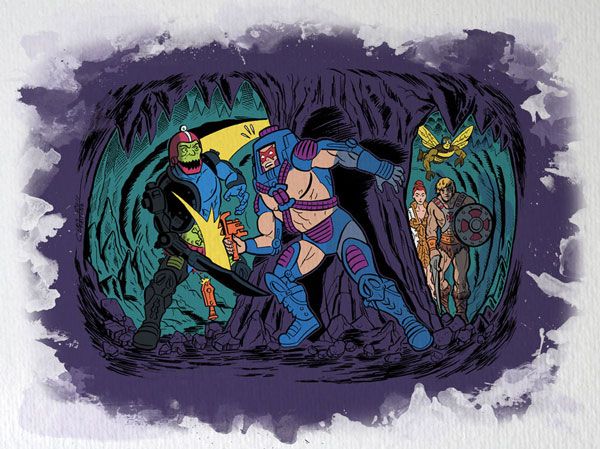 I can't thank Chris enough for the fantastic work he did on this, and taking the time to include all the extra goodies for us. You rock man! To reach Chris about possible commissions, e-mail him at akumaakumaakuma@gmail.com, or check out his site-
chrisfacconeart.com
Interested in having your MOTU art featured on "Fan Art Fridays"? Well shoot me an e-mail at mastersoftheuniverseclassics@live.com and let's talk!