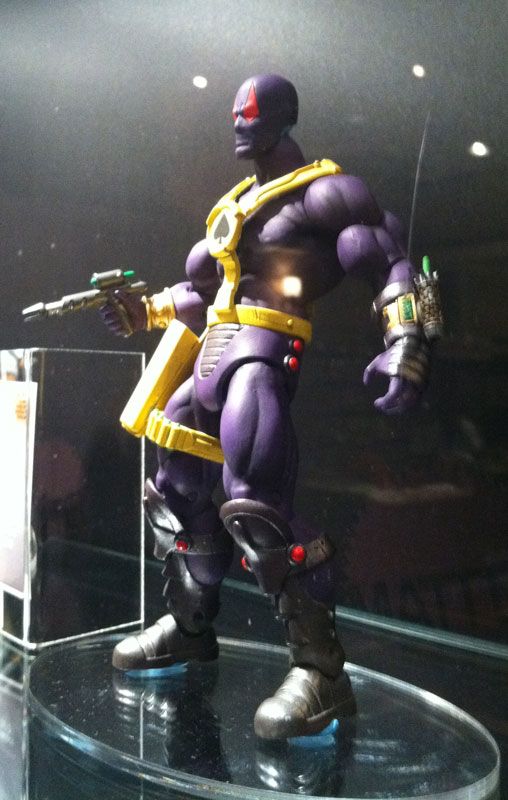 Remember awhile back when I posted
the story about Keaton's first dentist visit
and how it forced a slight change of heart over the whole Mo-Larr thing? Well, looks like I'm heading to the kitchen table to eat my second helping of crow.
Since the reveal of "The Mighty Spector" back at Power-Con in 2011, I have been pretty vocal about my dislike of the character and his inclusion in the MOTUC line-
"How could this Deadpool-wannabe make it into my beloved He-Man franchise?"
"Why is Scott "Toy Guru" Neitlich getting a coveted spot for his character in the 30the line?"
"Who could justify that design as fitting into the world of MOTU? This guy is going to look ridiculous next to guys like Man-At-Arms on my shelf!"
"Why, why, why!?!"
And those were my calmer, nicer arguments. But when I really look back at all the things I have said about Spector, it basically boils down to two main gripes: (1) That the character's design doesn't fit the MOTU world and is more akin to the superheroes of the mid-90's, and (2) that it was pretty selfish of Toy Guru to shoehorn his failed Create-A-Character contest entry into the MOTU world.
Valid points, right? Well, at least they were to me. "Were" being the operative word here. It seems that I may have been a bit hasty in my Spector bashing, as a couple of tidbits shared online in the past week have caused me to reevaluate my feelings on TMS.
Let's start with his design. I, like many others, have felt since his reveal that the Spector design was incredibly similar to the Marvel Comic's character Deadpool. In fact, the most recent Deadpool figure featured a variant paint scheme eerily similar to the (at the time unannounced) Spector. See-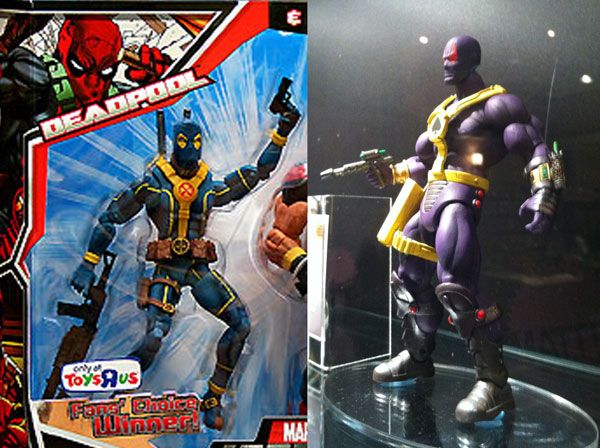 With his masked face and large belt, holster, & straps, it isn't hard to imagine Spector as a character created by Rob Liefeld for one his oft-canceled Youngblood comic books. I just couldn't imagine anyone actually coming up with a design so "Spawny" during the 1980's, much less thinking that it would make a valid entry for the MOTU Create-A-Character contest. This lead me to believe that while the Spector name was probably something Scott came up with back then, the actual visual design of the character must be something either heavily re-designed to fit current aesthetics OR an entirely new concept borrowing heavily from modern superheroes.
Turns out I was wrong. Not only is it totally plausible that this design originated in the 80's, but it might even be that the look is directly inspired by Masters. Want to know from where? Of course you do. Why else would you be reading this.
My fellow He-Fan Joe Amato posted this very interesting article from the second issue of the vintage "He-Man and the Masters of the Universe Magazine" on Facebook the other day-
While not part of the official "Create-A-Character" contest, this fun 2-page spread allowed aspiring young He-Man fans to mix and match parts in an effort to create their very own He-Man characters, which they could then name and assign special powers to. As Amato pointed out in his posting, what makes this article interesting is the inclusion of parts which look VERY similar to those we see in the design of Spector.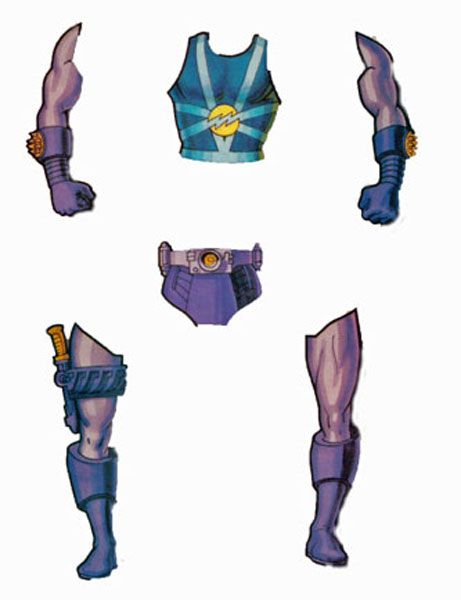 One set of legs and arms are remarkably close, even sharing Spector's purple hue. A belt and crotch piece from another mirror the final toy (albeit through the "classicizing" machine). One of the torsos featured has straps with a circular symbol emblazoned in its center. Everything is there... minus a head.
Since none of the four heads presented in the spread even remotely resemble a human, let's assume that Scott might have drawn influence from outside mediums- like comic books.What characters prevalent in the 1980's might have inspired the Spector's mask design? Two spring to mind for me instantly-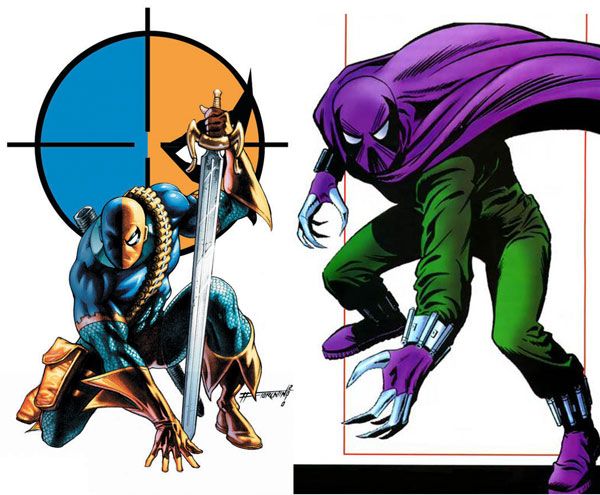 Both DC's Deathstroke and Marvel's Prowler feature mask designs similar to what Spector wears... and both pre-date the aforementioned Deadpool by a fair margin. Hypothetically speaking of course, let's say influence was drawn from one of these sources. Looking at what we have here, it isn't hard to imagine these bits swirling around in a young Scott Neitlich's mind, coalescing into the final Spector design.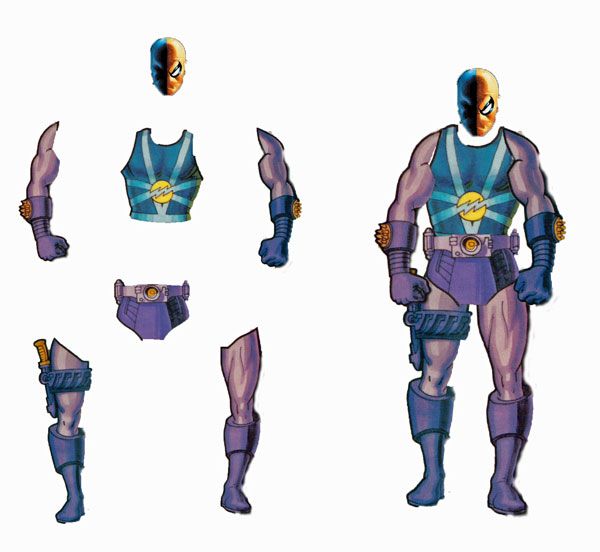 A few color tweaks and some minor design changes later, and we have this-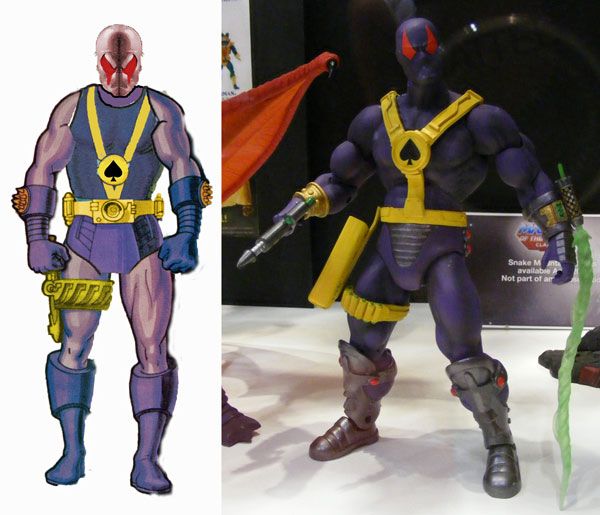 Pretty close, eh? Keeping in mind that the Spector figure had to use existing parts, it seems like a pretty close match to me. Almost entirely constructed from what was presented in that vintage MOTU magazine feature.
Even if Scott never saw the magazine and never used it for inspiration in his design, this all still proves something very important; Not only could this design have been created in the 1980's, but the MOTU magazine itself even included the "superhero" type parts as possible bases for a He-Man character.
So there goes my first argument. If there is historical relevance to the character's design in the Masters mythos, I can't very well keep arguing that Spector doesn't fit. Which leaves me with my second point- That Scott is wrong in injecting his failed design into the line.
Yeah, I think I might have been wrong on that one too. Or at least a hypocrite. Yeah. Definitely a hypocrite.
Check out this video from Pixel Dan featuring Scott giving a walkthrough of the Toy Fair 2012 reveals. Spector turns up at about the 30 minute mark, but the part I really want to focus on is right at 33:28...
While talking to Dan, Scott pulls a Spector figure out of his inner coat pocket. They joke back-and-forth about him carrying one around with him all the time, and it seems like Scott was maybe keeping it in there just for the video... But you know the first thing that popped in my head when I saw that?
"If I had a figure based on something I made up, I'd carry it around with me everywhere too."
And I'm sure many of you reading this thought the same thing.
That was when I realized that no matter how much I argued about how wrong it is that that a brand manager stuck his own childhood idea in the line, or how many times I professed that if I were brand manager I would do what was best for the line and leave my personal desires totally out of it... I was lying to myself. If I were in Scott's shoes and there was an opportunity for me to get my own creation into the line (all the while not eating up a regular monthly slot), I would have done it too. And I would be just as excited (and defensive) as he is in the video.
Guilty as charged.
Which leaves me with no real arguments left, outside of the issues I could take with any other MOTUC figure. I wish this color was different, this part of the bio is weird, his weapon is too powerful, the design choice here is odd... etc, etc etc.
Spector is now on a level playing field in my eyes. Which is kinda weird to say after how long I spent convincing myself that he had no place even being in the line.
....but Sir Laser Lot? That is a whole different can of worms. ;)